On 04 October 2019 the 2nd Lyceum of Vrilissia welcomed the BAS project partners in its premises in Vrilissia, Athens for the realization of the 3rd Transnational Project Meeting.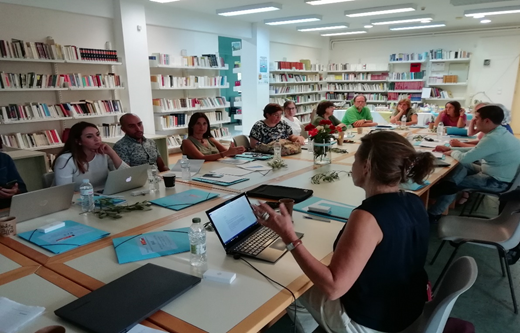 The meeting was dedicated on the presentation of the recently drafted Protocol for the organisation of the intercultural exchange school trips, which are due to spring 2020. This comprehensive document, which will act as a guide for the preparation of the forthcoming school trips and offers a:
step by step practical guide for the organization of partner
a set of suggested workshops for realization, covering all phases of the trip preparation and implementation.
An overview of roles and responsibilities of all parties involved (teachers, students, partners).
A set of accompanying templates.
Partners thoroughly discussed on the document and endorsed its content while pointing out the possibilities of improvement. Within that Framework time was given to the partners to discuss in groups their thoughts and ideas regarding specific activities that they would like to implement within the framework of the organization and realization of their trips.
Apart from the main focus on the Protocol a brief overview of methodology issues took place at the very beginning of the meeting, where clarifications and deadlines regarding the implementation of the first phase of the survey among participating students were provided. Undoubtedly a highlight of the meeting was the short tour in the school facilities that took place towards the end of the partner meeting. Partners had the opportunity to visit school classrooms and offices while information on the daily life in the school was provided by the accompanying school teachers. Through this tour partners gained a significant insight on the operation of a public school within the Greek context.
In the end of the day partners agreed on the next steps for the project and renew their date for the coming February.