The Institut Escola La Mina offers pre-school, primary and secondary education and vocational training. We work for equal opportunities for all of our students.
The main strategies of our project are: new methodologies; the participation of families in classroom activities, art as a key area; the involvement of high school students in the learning of the youngest; the inclusion of the history and culture of the Gypsy people, the offer of extracurricular activities, the improvement of environment; an active participation in the neighborhood and the town, making our students to "see the world" so that they learn more and better.
We want to be a welcoming and open school, plural and innovative school, able to motivate and encourage all our students. We work hard to generate positive expectations for learning so that all students will culminate the studies in their integrity and achieve educational success, in order to become citizens with a critical spirit, as responsible persons and committed to society.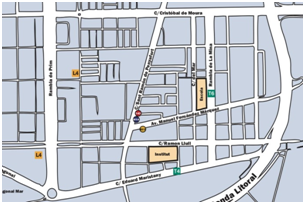 C. Ramon Llull, 450 – 458 (High school)
Rambla de la Mina, 36 (School)
08930 Sant Adrià de Besòs (Barcelona)
Marta del Campo